I have a white couch. Why do I have a white couch? ... I have no idea.... I'm always terrified its going to get dirty. I'm scared someone is going to spill wine on it. Or have dirty hands. Or put their shoes on it. Or drip red popsicle on it. All of these things have happened to my white couch. And I've silently freaked out inside. All I wanted was a clean, neutral colored couch in my life. But it has become a huge source of anxiety (therefore giving Tyler anxiety as well.) Well - its time for a new couch. Not just any couch. A sectional. A GREY sectional. So what did I do to remedy this? I dragged Tyler sectional shopping this past weekend. He loved every second of it. :)
We have requirements for a sectional:
1. Must be able to accomodate two people laying down in different parts of the couch, not squished side by side
2. Must be comfy. Some people like hard furniture because it gives them support. We like furniture that feels like we're laying or sitting in a cloud.
3. Must has a longevity of 10-15 years. We're ready to lay some serious cash down on this couch, so we have to get a good cost per day rate out of it.
4. Must not show dirt and needs to be easy to clean.
And we found one we LOVE. I introduce you to the Axis sectional by Crate & Barrel: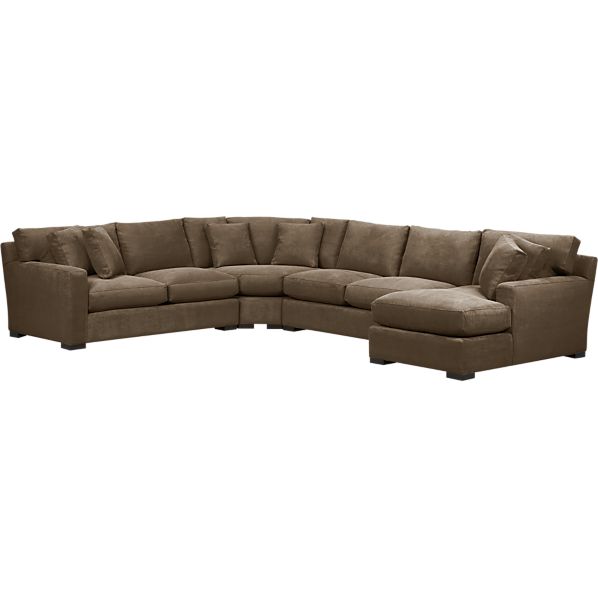 Picture this in grey microsuede
It meets all the requirements, plus some! But of course it might be the most expensive one available at C&B. So we'll just save our little pennies until we're ready, and I'll continue to be a white couch crazy person. :)
Discouraged that we couldn't purchase the couch right then and there, we walked across the street to Z Gallerie. Z Gallerie might be one of my favorite stores. It is totally my style, and the prices are pretty affordable. And it just so happened they were having a 20% off sale! There had been a piece of art there that I had been eyeing, and I've pinned twice in Pinterest, so I had to see it in person. And we BOTH loved it. I introduce you to Happy Cow: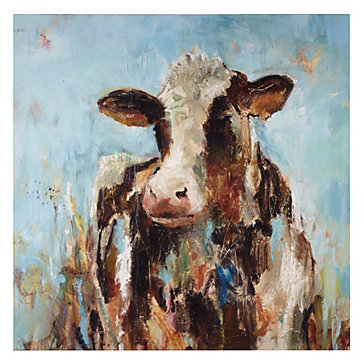 Happy Cow
He's so cute and innocent looking, and he's got some good colors to pull from. And its very Texas, and I kind of like making fun of Texas because Texas is just so......Texas. So we made an impulse purchase, and now we have 4 foot x 4 foot Happy Cow sitting in our office area. Not sure where his final home will be, but we'll decide that once the wood floors are finished next weekend. :) We love our Happy Cow. He makes us so happy!!